Town Hall Information
TOWN HALL LOCATION:
83030 Grand Avenue, Port Wing, WI 54865
MAILING ADDRESS:
P.O. Box 146, Port Wing, WI 54865
CLERK'S OFFICE:
8950 5th Street, Port Wing, WI
Port Wing, WI 54865
Office Hours:
Monday & Thursday afternoons or by appointment
If questions or to make an appointment,
please email clerk@portwing.gov
or call 715-774-3662 and leave a message. 
CLERK - Town of Port Wing 
Pam Holt - 715-774-3662 or 3663
clerk@portwing.gov
DEPUTY CLERK - Town of Port Wing 
Marge Ogren - 715-774-3624
Email: deputyclerk@portwing.gov
Port Wing, Wisconsin - News & Notices
Many roads and intersections are being
damaged by ATV/UTV riders.
If the damage continues the Town will have to
close the roads to ATV/UTV traffic!
Please ride responsibly and monitor the use by your fellow riders!
Monthly
Weekly
Daily
List
Events for November
29
11:30 am - 12:00 pm
Events for December
1
No Events
Events for December
2
No Events
Events for December
3
No Events
Events for December
4
6:00 am - 9:00 pm
All Day
Events for December
5
No Events
Events for December
6
11:30 am - 12:00 pm
Events for December
7
All Day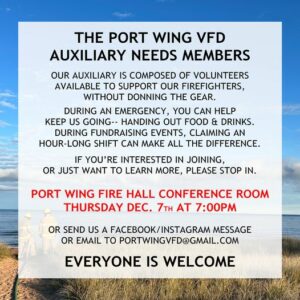 7:00 pm - 9:00 pm
Port Wing Fire Hall Conference Room
Events for December
8
All Day
Events for December
9
3:00 pm - 6:00 pm
Events for December
10
No Events
Events for December
11
No Events
Events for December
12
No Events
Events for December
13
11:30 am - 12:00 pm
Events for December
14
No Events
Events for December
15
No Events
Events for December
16
No Events
Events for December
17
8:00 am - 6:00 pm
Events for December
18
No Events
Events for December
19
No Events
Events for December
20
11:30 am - 12:00 pm
Events for December
21
No Events
Events for December
22
No Events
Events for December
23
No Events
Events for December
24
No Events
Events for December
25
No Events
Events for December
26
No Events
Events for December
27
11:30 am - 12:00 pm
Events for December
28
No Events
Events for December
29
No Events
Events for December
30
No Events
Events for December
31
No Events
Events for January
3
11:30 am - 12:00 pm