Port Wing - Town Hall Courts
Your Donation Is Needed to Complete the Project.
You might have noticed the new fencing in the Town Hall parking lot. After two plus years of effort headed by the Port Wing Town Board, that area will soon be an area of resurfaced courts that can be enjoyed by people of all ages.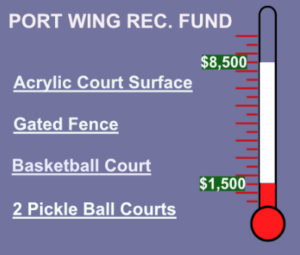 We are reaching out to the community to make this courts area happen. Donations are tax deductible and anyone giving $50 or more will be mentioned on a plaque on display in the court area.
We have received generous donations from many organizations and a few individuals, but are still in need of $8,500 to complete the project. As with everything, the pandemic slowed progress and has increased costs.
Many Thanks to These Generous Sponsors So Far:
Wm. Gustafson
Gustafson Landscaping
Port Wing Area Historical Society
South Shore Area Lions Club